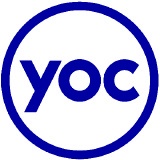 Senior Sales Manager (m/f) Mobile Advertising
Permanent employee, Full-time • Warsaw
YOC is a pioneer and leading independent provider of data-driven mobile advertising solutions in Europe.
With our long-standing expertise, we have created a marketplace for innovative and non-intrusive digital ad formats and deliver them across all programmatic and direct trading channels. With our pioneering technology we aim to operate qualitatively at the top of the advertising market and deliver better advertising experiences to everyone. We have developed a unique and proprietary platform VIS.X® to cover the full potential of effective programmatic advertising.
Since 2006 we are listed on the stock exchange as one of the first providers of mobile advertising and continue to be a dynamic company with flat hierarchies. More than 80 employees at seven European locations strive to make a meaningful and sustainable contribution to better advertising.
THE ROLE
The Senior Sales Manager (m/f) will join our team of experienced mobile advertising specialists and work closely with our product management team and our international sales teams across Europe. In this role, you will be in charge of expanding our network and shaping our business in Poland by:
Successfully generating business and achieving revenue goals across?a specific agency patch and by prospecting new clients
Developing deep knowledge & expertise around YOC product offering and go to market strategy
Creating compelling sales proposals, identifying individual client needs and articulating how those can be achieved utilizing the YOC Mobile Platform
Hitting monthly revenue targets through direct and programmatic PMP sales
Identifying new opportunities in programmatic selling, qualifying leads and acquisition of buyers (agency trading desks/advertisers) and buying platforms (DSPs)
Representing the company to potential customers, trade fairs, professional associations, etc.
YOUR PROFILE
You have 3+ years of experience within a digital advertising sales environment (mobile experience preferable), including programmatic ad-tech
You have a very good agency network in Poland: you have successfully worked for/with Media Agencies, and/or Editorial Groups and a proven track record for developing strong client relationships
You have convincing media advertising sales skills, a very good understanding of the media marketplace in Poland and how it relates to advertisers, publishers & their objectives
You inspire us with your commitment to success, your motivation, persuasion and self-initiative
You are highly responsible, self-motivated and able to thrive in an energetic, fast-paced, creative environment
You have excellent written and oral communication skills, in Polish and English
WHAT WE OFFER
YOC stands for "Your Opinion Counts". This idea guides us as a company and defines the understanding of our teams.
Inspire - Progress - Connected - these values are lived at YOC and determine our corporate culture. We offer you the opportunity to actively contribute to the shaping of your role, to give new impulses and to implement your ideas independently. It is our goal to support you in your personal and professional development, and together, to continue our pioneering work in the future-driven mobile advertising market.
In addition to an attractive and modern workplace with optimal transport connections, we offer subsidies for in-house language courses, international company events, and without say, organic fruits & coffee.
ARE YOU INTERESTED?
Send us your CV and become part of our open and dynamic team. We are looking forward to your application.
Apply now
YOC AG | Greifswalder Str. 212 | 10405 Berlin |
jobs@yoc.com
|
www.yoc.com